Stage 2 Natural Goat Milk Formula
Natural Goat Milk Stage Two Formula LittleOak's Stage 2 Follow-on Formula is scientifically formulated to support the growing needs of babies aged 6-12 months. It is made from fresh whole goat milk straight from our dairy in New Zealand. Goat milk is a delicious, creamy alternative to cow's milk.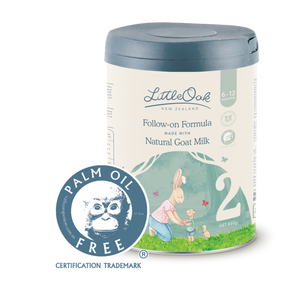 FAQs About Stage 2 Baby Formula
Stage 2 formula is suitable for babies aged 6-12 months, and has been formulated to meet the nutritional requirements of that specific developmental stage. LittleOak's Stage 2 Follow-on Formula is naturally rich in prebiotics and supports natural digestion. 
You can move to LittleOak stage 2 Follow-on Formula from 6 months plus. This is specially formulated to meet the increasing nutritional requirements of babies 6 – 12 months and is better able to support healthy growth and development as a part of a mixed diet. When you decide to change to Stage 2, we do suggest a slow transition as the increase in iron can sometimes cause tummy discomfort, constipation and gas. This is more likely if your Bub has a sensitive stomach.
Stage 1 and stage 2 formulas contain slightly differing levels of energy and nutrients to support different developmental stages.
From around 6 months old, babies should be starting solid nutritious foods whether it be baby-led weaning or purees, that food journey is entirely up to you. Our stage 2 formula is better able to support healthy growth and development as a part of a mixed diet.
The key difference is the extra iron fortification. Babies build up their iron stores in the last trimester of pregnancy and have enough iron to last about six months. At around six months a baby's iron stores are diminished and a baby should be starting to eat iron fortified foods and vitamin C-rich fruit to aid in iron absorption.
Absolutely. At LittleOak, we support each and every feeding journey, whatever that looks like.  Many parents choose to both breastfeed and use Stage 2 formula simultaneously. There are times when supplementation may be necessary, such as when a mother has a low milk supply, and other times when it simply proves more convenient - we truly believe the choice about how you feed your baby should always be yours. 
There are some simple steps to follow to prepare Stage 2 formula: 
Always wash hands and use sterilised equipment.
Measure out the required volume of cooled, boiled water. We recommend using water no hotter than 40°C to ensure there is no damage to the essential nutrients used in our formula.
3. Only use the enclosed LittleOak scoop. Fill the scoop and level off using the provided leveller. Avoid compacting powder.
4. Always add one level scoop of powder for each 50mL of water. Mix thoroughly by shaking gently or swirling the bottle to dissolve the powder.
5. Test temperature on wrist before use. It should feel lukewarm, not hot. If it feels too hot, cool down by holding the bottle under cold water. Be sure none of this water gets into the feed. Feed immediately.
6. Discard any unfinished milk. Each bottle should be prepared individually. If the bottle is prepared for storage prior to use, ensure it is refrigerated and use within 24 hours.
Ingredients: Full Cream Goat Milk Solids, Lactose, LittleOak Proprietary Oil Blend (Sunflower Oil, High Oleic Sunflower Oil, Pressed Coconut Oil, Pressed Flaxseed Oil), Galacto-oligosaccharide (GOS), Minerals (Tricalcium Phosphate, Calcium Citrate, Trisodium Citrate, Magnesium Sulphate, Ferrous Lactate, Zinc Sulphate, Sodium Selenite, Copper Gluconate, Manganese Sulphate, Potassium Iodide), DHA Powder (Docosahexaenoic Oil from Schizochytrium sp.), ARA Powder (Arachidonic Acid Oil from Mortierella alpine), L-Tyrosine, Choline Chloride, Vitamins (Sodium Ascorbate, Vitamin E Acetate, Vitamin A Acetate, Niacinamide, Vitamin D3, Calcium Pantothenate, Vitamin B12, Vitamin K1, Thiamin Hydrochloride, Pyridoxine Hydrochloride, Riboflavin, Folic Acid, Biotin), Inositol, L-Cysteine, L-Tryptophan, Antioxidant (a-Tocopherol), L-Carnitine. Allergens: Contains milk. Made using Goat Milk Protein.
LittleOak is the world's first baby formula to be certified 100% Palm Oil Free. Goat milk is naturally rich in prebiotics and essential vitamins, including Vitamin K, B5, Biotin, Choline, Manganese, and Selenium, all of which are crucial for growth and development.
We have a handy feeding guide on the formula tin and website to determine how much Stage 2 formula to feed your baby each day. However, this really is to be used as a guide only. Other factors to be mindful of is your little one is premmie, not meeting milestones, under the review from paediatrician, meeting nappy outputs, happy or fussy. Like adults, babies are all different and appetites vary. If your little one doesn't drink the whole bottle you can keep the bottle aside and offer it again 15 minutes later. 
It is important to use warm water when preparing Stage 2 formula. We want to ensure that the water is warm, between 30-40 degrees and the powder fully dissolved. If heated above 40 degrees, you could potentially start overheating the quality nutrition in the milk and lose some of the natural goodness. If you shake or swirl the bottle to get the powder to fully dissolve, please let it rest for 30 seconds so the bubbles and air settle. 
It's advisable to use BPA-free bottles to ensure safety. BPA, or bisphenol A, is a chemical used in certain plastics and can leach into food or liquids when exposed to heat. Using BPA-free containers reduces this risk. Check labels for recycling codes, with codes 1, 2, 4, 5, and 6 being unlikely to contain BPA. Scratched containers should be discarded, as they may harbor germs and release traces of BPA.